St. Mark Evangelical Lutheran Church
Our mission is: St. Mark Cares: welcome, worship, witness
From the Pastor
How exciting is it to be in the midst of celebrating our up-coming 100th anniversary! We began with a celebratory worship with the Edgar Crockett Jazz Quartet and a nice display of historical photos in the lounge. We also began to sell our commemorative coins and ornaments to mark our milestone. It was those who gathered together almost 100 years ago who took a risk, left their church home, thought outside of the box, and ventured forward and created St. Mark Lutheran Church. Together, St. Mark members have continued mission and ministry for the sake of the Gospel and the love of Christ been shared in this community and around the world. Together we have so much to celebrate!
"If you want to go fast, go alone. If you want to go far, go together." – African Proverb

A fuller liturgy has begun. Together we do church together and worship together. St. Mark has a long history of music appreciation. In appreciation of our history of music over the years, an Organ Recital on Oct 3rd at 3pm highlighting our pipe organ and Kevin Vaughn. This will be an event to invite friends and family sharing with them the beauty of music and the St. Mark beautiful sanctuary.
"Beautiful music is the art of the prophets that can calm the agitations of the soul; it is one of the most magnificent and delightful presents God has given us." - Martin Luther

As our partnering process continues with Grace Lutheran Church, I ask that you continue to pray and listen to what God is calling us into together for the sake of ministry and the future of the church. The partnering task force members continue to listen to God, each other, and our congregation members as we discern the possibilities of partnership in relation to our assets, the great commission, and our hopes and dream. Each congregation has invited each other to participate in events in our community. Our Thanksgiving Worship, Sunday Oct. 21st 7pm at Grace as we continue to learn more about each other and give thanks to God.
"For just as the body is one and has many members, and all the members of the body, though many, are one body, so it is with Christ." - 1 Corinthians 12

Let us continue our mission together.
Pr. Travis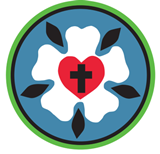 Affirmation of Faith
October 31st the day on 1517 Martin Luther nailed his 95 Theses to the church doors in Wittenberg, Germany marks the beginning of the Reformation. Luther's intention was to reform the Catholic Church, not to create a separate denomination.  As we are baptized and confirmed in the church we are into the universal (Christian/catholic) church. We will remember the Reformation and celebrate the Affirmation of Baptism at our 9:30AM worship service. The confirmands are not the future of the church, but part of the church. We welcome them as confirmed members to work among us and Christians everywhere to live out our baptismal promises: To "...live among God's faithful people; hear the word of God and share in the Lord's Supper; proclaim the good news of God in Christ through word and deed; serve all people following the example of Jesus; and strive for justice and peace in all the earth." Promises we all seek to live out in faith.
Confirmation is a public rite of the church preceded by a period of instruction in which baptized Christians learn about the confession, life, and mission of the Christian Church
– Luther's Small Catechism
Let us celebrate with these five young people as they take another step on their faith journey:
Alexia Anne Korch, Tabitha Marie Korch, Ryan Patrice Lefebvre, Chloe Anne Meade, Jacob Peter Schumann

St. Mark is Hosting A Trunk or Treat!

Sunday, October 24
1pm-2:30pm
The event will take place in the
St. Mark East Parking Lot.
We will be holding our annual Trunk or Treat on Sunday October 24th from 1pm-2:30pm in the East parking lot. We are looking for families who would be willing to participate. You can sign up to host a trunk by contacting Lisa Willey, Amber Sherrod, or sign up in the Narthex. We ask that you provide your own candy, but extra will be available since this event seems to be very popular. We are also asking trunk hosts to provide a basket or another way to pass out candy but, maintain social distancing. If you are unable to attend, but would like to help, there will be a basket in the narthex starting the first Saturday in October to collect candy donations. If you would like to host a trunk or have any questions, please contact Lisa or Amber.
St Mark Evangelical Lutheran Church is a congregation of
The Evangelical Lutheran Church in America. ELCA
in the Southeastern Iowa Synod (hotlink: seiasynod.org)
Read about upcoming projects and events at St. Mark in the
Current LIFE Newsletter
Did you miss Last Month's Life?