St. Mark Evangelical Lutheran Church
Our mission is: St. Mark Cares: welcome, worship, witness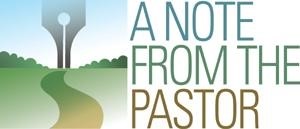 I am deeply convinced that the Christian leader of the future is called to be completely irrelevant and to stand in this world with nothing to offer but his or her own vulnerable self. That is the way Jesus came to reveal God's Love. – Henri Nouwen.
Cuddled up in front of the fire, several feet of beautiful snow has blanketed the ground outside. Pouring the hot chocolate into a large mug, I snuggle in for yet another long string of quiet evenings. Well, the hot chocolate part might be true, anyway. Without that layer of snow covering the trees and the grass, it's easy to see why this is called the "dead" of winter, and here we are right in the middle of it. How are things with your soul this time of year? Do you find yourself feeling like things look outside?

In 1987, Stephen Covey wrote "The 7 Habits of Highly Effective People". One of the concepts that he relies heavily upon deals with where one is to concentrate one's focus. He calls it the "Circle of Influence" versus the "Circle of Concern." We should only focus on things which we can actually have an effect upon. This is our "Circle of Influence." This circle starts with ourselves. First, we must take a good look at who we are and the extremely high value that we, as God's children, have, no matter what our station in life happens to be. Secondly, we can influence ourselves through the actions we take and the attitudes we foster. Aristotle said, "We are what we repeatedly do. Excellence, then, is not an act, but a habit." In addition, there is a maxim that goes, "Sow a thought, reap an action; sow an action, reap a habit; sow a habit, reap a character; sow a character, reap a destiny". So lastly, if you are feeling "dead" like things look outside, see if you can influence yourself by creating new actions and attitudes. If habits are learned, they can be unlearned; perhaps it has been a habit to be down at this time of year. I have heard that if you tell yourself something enough times, your brain will think it to be reality. Concentrate on the words from John 3:16. "For God so loved the world, that He gave His only begotten Son, that whoever believes in Him should not perish but have eternal life."

My dear friends, the "world" and the "whoever" in this familiar verse includes each and every one of you. That's how I know the tremendous worth of each and every one of you.

I pray for God's continued blessings upon you this winter and throughout 2023. Remember this, God's season of love does not pass like the seasons but is eternal in the heavens.
Grace and Peace,
Pr. Travis
St Mark Evangelical Lutheran Church is a congregation of
The Evangelical Lutheran Church in America. ELCA
in the Southeastern Iowa Synod (hotlink: seiasynod.org)
Read about upcoming projects and events at St. Mark in the
Current LIFE Newsletter
Did you miss Last Month's Life?